Lenovo ThinkSystem SR950 Planning and Implementation GuidePlanning / Implementation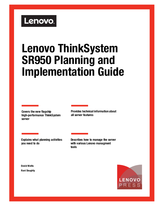 Authors
Updated
31 Jan 2019
Form Number
LP0746
PDF size
292 pages, 182 KB
Abstract
Lenovo® ThinkSystem™ SR950 is a high-performance server that is designed for your most demanding, mission-critical workloads. Suitable workloads include in-memory databases, large transactional databases, batch and real-time analytics, ERP, CRM, and virtualized server applications.
The powerful 4U ThinkSystem SR950 can grow from two to eight Intel Xeon Scalable Family processors, and with 96 DIMM sockets, supporting up to 12 TB of high-speed memory. The modular design of the SR950 aids upgrades and servicing with easy front or rear access to all major subsystems to maximize server availability.
The SR950 packs numerous fault-tolerant and high-availability features into a high-density, 4U rack-optimized design that reduces the space needed to support massive network computing operations and simplify servicing.
This book provides a general understanding of SR950 technology, components and management features. It also describes preparing and implementing the server, including power and cooling considerations, operating system installations, systems management, and firmware update tools.
This book is aimed at customers, Lenovo Business Partners, and Lenovo employees who want to understand the features and capabilities of the ThinkSystem SR950 and want to learn how to install and configure the server for use in production.
Table of Contents
Chapter 1. Introduction
Chapter 2. SR950 Technology
Chapter 3. Product information
Chapter 4. Infrastructure planning
Chapter 5. Preparing the hardware
Chapter 6. Operating system installation
Chapter 7. Managing the hardware
To view the document, click the Download PDF button.
Change History
Changes in the January 31 update:
New RAID adapter - 3.9, "Controllers for internal storage" on page 72:

ThinkSystem RAID 730-8i 2GB Flash PCIe 12Gb Adapter, 4Y37A09722

New drive options - 3.10, "Internal drive options" on page 74:

ThinkSystem 2.5" SS530 400GB Performance SAS 12Gb Hot Swap SSD
ThinkSystem 2.5" SS530 800GB Performance SAS 12Gb Hot Swap SSD
ThinkSystem 2.5" SS530 1.6TB Performance SAS 12Gb Hot Swap SSD
ThinkSystem 2.5" SS530 3.2TB Performance SAS 12Gb Hot Swap SSD
ThinkSystem U.2 Intel P4610 1.6TB Mainstream NVMe PCIe3.0 x4 Hot Swap SSD
ThinkSystem U.2 Intel P4610 3.2TB Mainstream NVMe PCIe3.0 x4 Hot Swap SSD
ThinkSystem U.2 Intel P4610 6.4TB Mainstream NVMe PCIe3.0 x4 Hot Swap SSD
ThinkSystem U.2 Intel P4510 1.0TB Entry NVMe PCIe3.0 x4 Hot Swap SSD
ThinkSystem U.2 Intel P4510 2.0TB Entry NVMe PCIe3.0 x4 Hot Swap SSD
ThinkSystem U.2 Intel P4510 4.0TB Entry NVMe PCIe3.0 x4 Hot Swap SSD
ThinkSystem U.2 Intel P4510 8.0TB Entry NVMe PCIe3.0 x4 Hot Swap SSD
ThinkSystem 2.5" Intel S4610 3.84TB Mainstream SATA 6Gb Hot Swap SSD

New Flash Storage adapters - 3.16, "Flash Storage adapters" on page 88:

ThinkSystem HHHL KCM51V 1.6TB Mainstream NVMe PCIe 3.0 x4 Flash Adapter
ThinkSystem HHHL KCM51V 3.2TB Mainstream NVMe PCIe 3.0 x4 Flash Adapter
ThinkSystem HHHL KCM51V 6.4TB Mainstream NVMe PCIe 3.0 x4 Flash Adapter

Updated the list of operating systems, Chapter 6, "Operating system installation" on page 183
Removed the withdrawn options
Related product families
Product families related to this document are the following: