Top
Author
Updated
16 Apr 2019
Form Number
LP1092
PDF size
7 pages, 862 KB
Abstract
This month, Lenovo announced a refresh of our ThinkSystem servers:
New second-generation Intel Xeon Scalable processors
New Intel Optane DC Persistent Memory
New 2933 MHz memory options
We also expanded server support in our option portfolio:
New M.2 drive option
Additional server support for various SSDs
Additional server support for GPUs
Additional server support for Flash storage adapters
Added 25GbE support to the ST550
Added LTO8 support to the ST250
Find out all the materials Lenovo Press created to support the announcements.
Change History
Changes in the April 16 update:
New servers with Gen 2 processors
Announcing the new Lenovo ThinkSystem servers, based on the second generation of the Intel Xeon Processor Scalable Family (Xeon SP Gen 2). The links below take you to the Lenovo Press materials where you can learn about the new systems.
4S-8S rack servers
2S rack servers
Density optimized server
Compute nodes for Flex System
Tower servers
In addition, we have published these three materials to support the launch of the new servers:
New Intel Optane DC Persistent Memory
Intel Optane DC Persistent Memory is an innovative technology that delivers a unique combination of affordable large memory capacity and persistence (non-volatility). Persistent Memory is supported on most ThinkSystem servers with second-generation Intel Xeon Scalable processors.
Learn more about this new offering from Lenovo: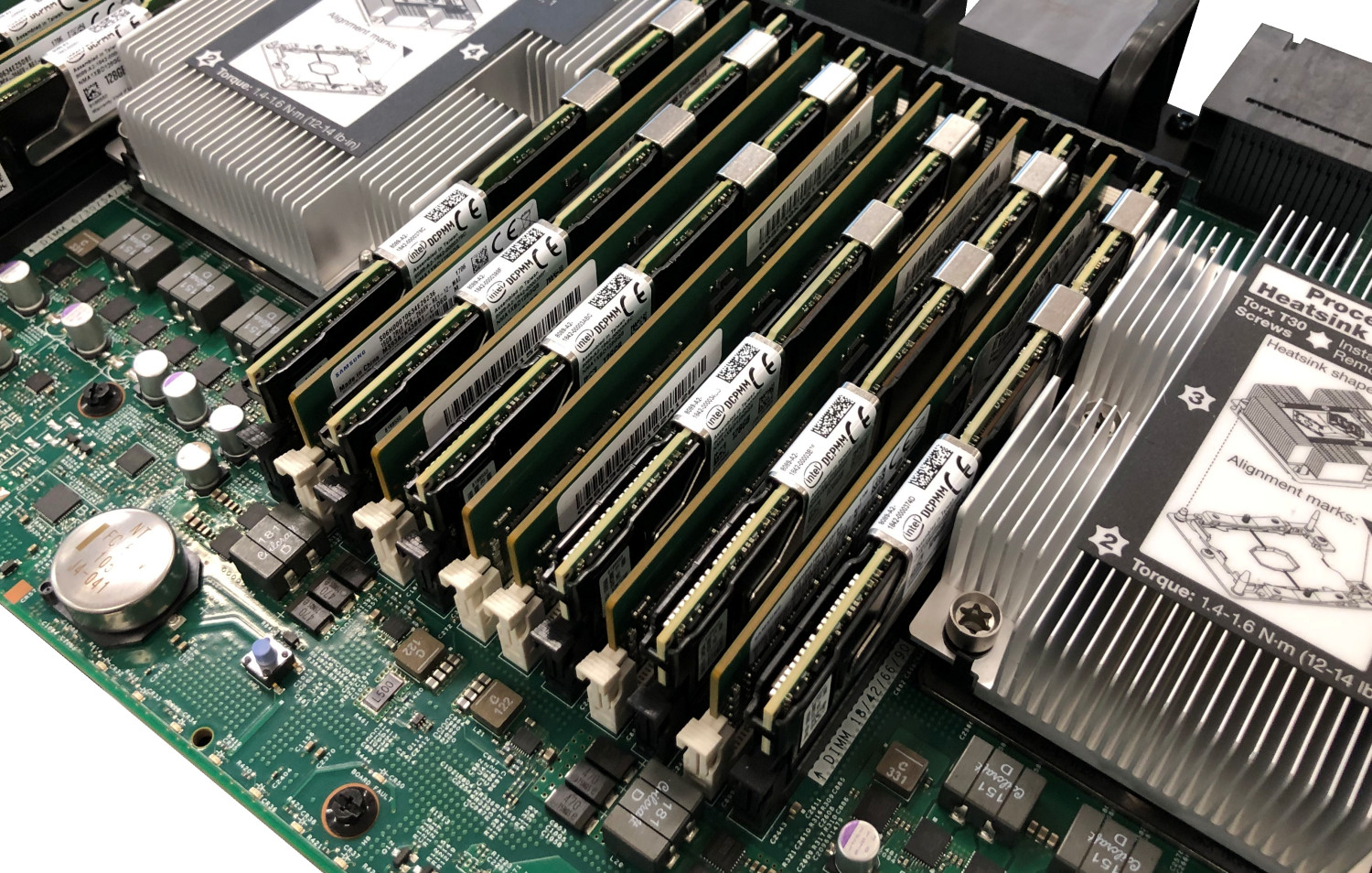 Figure: DCPMMs installed in an SR950 system board
New Benchmark Results
Server Options
This month, we announced a new M.2 capacity point and a 3.5-inch version of a PM883 drive:
This month we also expanded server support of the following options:
Drives:
GPUs - See ThinkSystem GPU Summary:

NVIDIA Tesla T4
AMD Radeon Pro V340

Network adapters:
Flash storage adapters
Backup units
HPC offerings
The following documents were updated in support of our updated HPC offerings:
Lenovo Intelligent Computing Orchestration (LiCO) 5.3
Lenovo Scalable Infrastructure (LeSI)
Lenovo Distributed Storage Solution for IBM Spectrum Scale (DSS-G)
Trademarks
Lenovo and the Lenovo logo are trademarks or registered trademarks of Lenovo in the United States, other countries, or both. A current list of Lenovo trademarks is available on the Web at https://www.lenovo.com/us/en/legal/copytrade/.
The following terms are trademarks of Lenovo in the United States, other countries, or both:
Lenovo®
Flex System
ThinkShield®
ThinkSystem®
The following terms are trademarks of other companies:
Intel®, Intel Optane™, and Xeon® are trademarks of Intel Corporation or its subsidiaries.
SPEC® and SPEC ACCEL® are trademarks of the Standard Performance Evaluation Corporation (SPEC).
Other company, product, or service names may be trademarks or service marks of others.