Top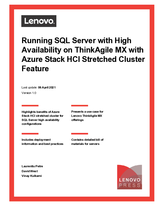 Authors
Published
7 Apr 2021
Form Number
LP1461
PDF size
17 pages, 459 KB
Abstract
This document describes the benefits of running Microsoft SQL Server workloads on an Azure Stack HCI stretched cluster solution from Lenovo.
Microsoft released the first version of Azure Stack HCI operating system name 20H2 in December 2020. One of shiny new features in Azure Stack HCI is stretched cluster. Azure Stack HCI stretched clustering on Lenovo ThinkAgile MX series provides you a disaster recovery solution for your mission critical SQL Server workloads.
The intended audience of this paper is IT professionals, technical architects, sales engineers, and consultants to assist in planning, designing, and implementing this solution. Some familiarity with Microsoft Windows Server operating system and SQL Server is expected.
Table of Contents
Introduction
Busines value
Architectural overview Stretched Clusters
Prerequisites for Azure Stack HCI Stretched cluster
Cluster creation and configuration with Windows Admin Center
Architectural overview SQL Server high availability
Prerequisites for SQL Server high availability
Appendix: Bill of Materials
Resources
To view the document, click the Download PDF button.
Related product families
Product families related to this document are the following: