Implementing a Storage Architecture for SQL Server using the Lenovo ThinkSystem DM7100F Storage ArrayPlanning / Implementation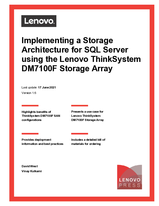 Authors
Published
17 Jun 2021
Form Number
LP1494
PDF size
18 pages, 556 KB
Abstract
This paper describes the configuration and best practices for running Microsoft SQL Server 2019 workloads using the Lenovo ThinkSystem DM7100F Storage Array. The DM7100F provides a robust storage solution for mission critical SQL Server workloads. Additional features included in the ONTAP software adds powerful flexibility, connectivity, and management options. An end-to-end NVMe solution is now available with the ThinkSystem DM7100F All-Flash Storage Array with ThinkSystem DB620S Fibre Channel switches and Emulex LPe35000 series 32Gb Fibre Channel host adapters. The intended audience is IT professionals, technical architects, sales engineers, and consultants to assist in planning, designing, and implementing this solution.
Table of Contents
Introduction
Business value
Architectural overview
Benefits of SAN storage solutions
Deployment Prerequisites
NVMe configuration
Overview of SQL Server storage and high availability
Appendix: Bill of Materials
Conclusion
Resources
To view the document, click the Download PDF button.
Related product families
Product families related to this document are the following: