Implementing Systems Management of IBM PureFlex SystemPlanning / Implementation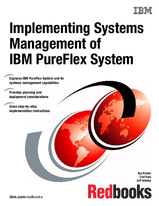 Authors
Updated
22 Apr 2014
Form Number
SG248060
PDF size
612 pages, 47.5 MB
Abstract
To meet today's complex and ever-changing business demands, you need a solid foundation of compute, storage, networking, and software resources. This system must be simple to deploy and be able to quickly and automatically adapt to changing conditions. You also need to be able to take advantage of broad expertise and proven guidelines in systems management, applications, industry solutions, and more.
IBM® PureFlex® System combines no-compromise system designs along with built-in expertise and integrates them into complete, optimized scalable solutions. With IBM Flex System® Manager, multiple solution components that include compute nodes, network and storage infrastructures, storage systems, and heterogeneous virtualization environments can be managed from a single panel.
This IBM Redbooks® publication introduces IBM PureFlex System and IBM Flex System and their management devices and appliances. It provides implementation guidelines for managing Linux kernel-based virtual machine (KVM), IBM PowerVM®, VMware vSphere, and Microsoft Hyper-V virtualization environments.
This book is intended for the IT community of clients, IBM Business Partners, and IBM employees who are interested in planning and implementing systems management of the IBM PureFlex System.
Table of Contents
Part 1. Introduction
Chapter 1. Introduction to IBM PureFlex System and IBM Flex System
Chapter 2. IBM PureFlex System and IBM Flex System management devices and appliances
Part 2. Chassis Management Module
Chapter 3. Planning for Chassis Management Module-based management
Chapter 4. Chassis Management Module operations
Part 3. IBM Flex System Manager
Chapter 5. Planning for IBM Flex System Manager management
Chapter 6. IBM Flex System Manager initial configuration
Chapter 7. Managing chassis components with IBM Flex System Manager
Chapter 8. IBM Fabric Manager
Chapter 9. Managing the KVM environment with IBM Flex System Manager
Chapter 10. Managing the PowerVM environment with IBM Flex System Manager
Chapter 11. Managing the VMware environment with IBM Flex System Manager
Chapter 12. Managing the Hyper-V environment with IBM Flex System Manager
Chapter 13. Mobile management
Implementing Systems Management of IBM PureFlex System, 2nd Edition
Related product families
Product families related to this document are the following: