Top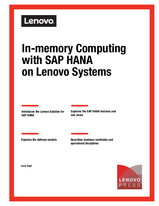 Author
Updated
6 Sep 2019
Form Number
SG248086
PDF size
172 pages, 3.6 MB
Abstract
The SAP HANA platform has come a long way. Experience grew over the past nine years. The sixth edition of this Lenovo Press publication describes in-memory computing systems from Lenovo and SAP that are based on Lenovo ThinkSystem products and SAP HANA. It covers the basic principles of in-memory computing, describes the Lenovo ThinkSystem hardware offerings including the possibilities around persistent memory, and explains the corresponding SAP HANA IT landscapes using these offerings.
This book also describes the architecture and components of the Lenovo System solution for SAP HANA. The SAP HANA operational disciplines are explained in detail: Scalability options, high availability and disaster recovery, backup and restore, and virtualization possibilities for SAP HANA systems.
This book is intended for SAP administrators and technical solution architects. It is also for Lenovo Business Partners and Lenovo employees who want to know more about the SAP HANA offering and available Lenovo solutions for SAP clients.
 
Table of Contents
Chapter 1. Basic concepts of in-memory computing
Chapter 2. SAP HANA and SAP S/4HANA overview
Chapter 3. Software components and data replication methods
Chapter 4. SAP HANA integration scenarios
Chapter 5. Components of the Lenovo Solution for SAP HANA
Chapter 6. SAP HANA IT landscapes with Lenovo solutions
Chapter 7. Business continuity and resiliency for SAP HANA
Chapter 8. SAP HANA operations
Appendix A. Additional topics
Change History
Changes in the September 6 update:
Sixth Edition is published.
Related product families
Product families related to this document are the following: