Top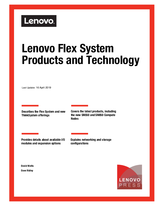 Authors
Updated
16 Apr 2019
Form Number
SG248255
PDF size
388 pages, 8.7 MB
Abstract
To meet today's complex and ever-changing business demands, you need a solid foundation of compute, storage, networking, and software resources. This system must be simple to deploy, and be able to quickly and automatically adapt to changing conditions. You also need to use broad expertise and proven guidelines in systems management, applications, hardware maintenance, and more.
Lenovo® Flex System™ combines no-compromise system designs along with built-in expertise and integrates them into complete, optimized solutions. Central to the Flex System offering is the Enterprise Chassis. This fully integrated infrastructure platform supports a mix of compute, storage, and networking resources to meet the demands of your applications.
The solution is easily scalable with the addition of another chassis with the required nodes, and with Lenovo XClarity™ Administrator, multiple compute nodes, I/O modules, and chassis can be monitored all from a single panel. Flex System is simple to deploy now, and to scale to meet your needs in the future.
This book describes the Flex System offerings that are available from Lenovo. It highlights the technology and features of the chassis, compute nodes, management features, and connectivity options. Guidance also is provided about every major component and networking and storage connectivity.
This book is intended for customers, Lenovo Business Partners, and Lenovo employees who want to know more about the new family of products. It assumes that you have a basic understanding of blade server concepts and general IT knowledge.
Table of Contents
Chapter 1. Introduction
Chapter 2. Systems management
Chapter 3. Chassis and infrastructure configuration
Chapter 4. I/O architecture and components
Chapter 5. Compute nodes
Chapter 6. Expansion nodes
Chapter 7. Network integration
Chapter 8. Storage integration
Change History
Changes in the April 16 update:
New ThinkSystem M.2 5100 240GB SATA 6Gbps Non-Hot Swap SSD, 4XB7A14049
The following drives were previously withdrawn but have now been re-released:

ThinkSystem 2.5" PM1633a 3.84TB Capacity SAS 12Gb Hot Swap SSD, 7N47A00121
ThinkSystem 2.5" PM1633a 7.68TB Capacity SAS 12Gb Hot Swap SSD, 7N47A00122
ThinkSystem 2.5" PM1635a 800GB Mainstream SAS 12Gb HS SSD, 7N47A00118
ThinkSystem 2.5" PM1635a 1.6TB Mainstream SAS 12Gb HS SSD, 7N47A00119
ThinkSystem 2.5" Intel S4600 480GB Mainstream SATA 6Gb HS SSD, 7SD7A05722
ThinkSystem 2.5" 5100 480GB Mainstream SATA 6Gb Hot Swap SSD, 7SD7A05764
ThinkSystem 2.5" Intel S4500 240GB Entry SATA 6Gb Hot Swap SSD, 7SD7A05742
ThinkSystem 2.5" Intel S4500 480GB Entry SATA 6Gb Hot Swap SSD, 7SD7A05741
ThinkSystem 2.5" Intel S4500 960GB Entry SATA 6Gb Hot Swap SSD, 7SD7A05740
ThinkSystem 2.5" Intel S4500 1.92TB Entry SATA 6Gb Hot Swap SSD, 7SD7A05739
ThinkSystem 2.5" Intel S4500 3.84TB Entry SATA 6Gb Hot Swap SSD, 7SD7A05738
ThinkSystem 2.5" PM863a 240GB Entry SATA 6Gb Hot Swap SSD, 7N47A00111
ThinkSystem 2.5" PM863a 960GB Entry SATA 6Gb Hot Swap SSD, 7N47A00113
ThinkSystem 2.5" PM863a 1.92TB Entry SATA 6Gb Hot Swap SSD, 7N47A00114

The following drive is now withdrawn:

ThinkSystem U.2 Intel P4500 1.0TB Entry NVMe PCIe 3.0 x4 HS SSD, 7SD7A05779
Related product families
Product families related to this document are the following: