Top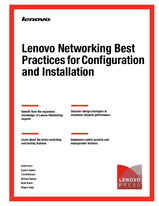 Published
14 Aug 2015
Form Number
SG248245
PDF size
230 pages, 292 KB
Abstract
Networking is the foundation of any multisystem solution and this document provides you with the tools to enable a successful implementation. The features that are available on the Lenovo Networking switches can be overwhelming at first; however, you can construct it easily if the configuration is broken down into its basic building blocks.
Each chapter in this book focuses on the key areas of the switch configuration, starting with the network design and proceeding through the network layer features, security, and server integration. Details are provided about how to configure the switch and to assure that it is functioning properly. This publication does not provide a complete description of every switch feature but instead focuses on the topics that are generally considered key to a successful implementation.
This publication is targeted towards technical professionals (networking team, consultants, technical support staff, and IT specialists) who are responsible for supporting the integration of systems into new and existing networks.
Note: Updated versions of some of the chapters of this book have been published as separate papers:
Table of Contents
Chapter 1. Introduction
Chapter 2. Network design and topologies
Chapter 3. Layer 1 technologies
Chapter 4. Layer 2 technologies
Chapter 5. Layer 3 technologies
Chapter 6. Securing access to the switch
Chapter 7. Operation and management
Chapter 8. Converged networking
Chapter 9. Integrating with hosts
Related product families
Product families related to this document are the following: